de Quervain syndrome is caused by swelling along the tendons on the thumb side of the wrist. These tendons are attached to muscles in your forearm. When the muscle contracts, the tendons will pull the bones that they are attached to. In deQuervain syndrome, the tendons that are affected are attached to the thumb bones and are responsible for moving the thumb away from the hand.

In de Quervain syndrome, the tendons run

in a tunnel called the first extensor compartment. This tunnel will become narrow due to thickening of the soft tissues that make up the tunnel. This will limit the movement of the tendon, leading to pain with hand and thumb motion, especially with forceful grasping or twisting. The syndrome can often be seen in new mothers and is referred to as "mommy thumb." It is thought to be caused by hand positioning when breast feeding and lifting the baby as well as possibly hormonal changes and fluid shifts.

Treatment includes wearing a brace that keeps you from moving your thumb and your wrist. Anti-inflammatory medications and hand therapy can also help. Cortisone injections may help to reduce swelling. Surgery can also be done to open up the tunnel and make more room for the tendons.
Powered by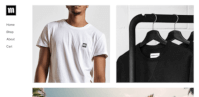 Create your own unique website with customizable templates.