The phalanges are the bones that make up the fingers of the hand. There are 14 phalanges in each hand. Three phalanges are present in each finger and two in the thumb. The phalanges are named according to whether they are proximal (closer to the hand), intermediate/middle or distal (towards the tip), and according to the finger they are in. The thumb does not possess a middle phalanx.

The proximal phalanges join with the metacarpals (long bones in the hand) at the metacarpophalangeal joint. The space between the proximal and intermediate and intermediate and distal phalanges are called interphalangeal joints.
Powered by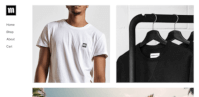 Create your own unique website with customizable templates.