Ligaments are similar to tendons in that they are both made of collagen. However, ligaments join one bone to another bone, while tendons join muscle to bone.

The joints in the hands and wrist are supported by ligaments. These ligaments can get stretched or torn with injuries to the joints. This is also referred to as a sprain. Physical exam findings of a sprain to the ligament include swelling, pain, joint instability or stiffness.

A common ligament injury to the hand is an ulnar collateral ligament injury of the thumb. This is sometimes referred to as Skier's thumb. Some people have had this injury for a long time, and then it is called a Gamekeeper's thumb.

This is a thumb with a torn ulnar collateral ligament. The ligament provides stability to the joint. Without it, the joint becomes unstable. The thumb should not bend this far. Surgery is done here to reconnect the ligament and restore stability to the joint.
Powered by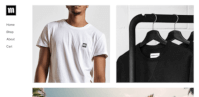 Create your own unique website with customizable templates.